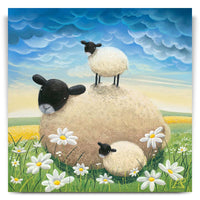 GORGEOUS PRINTS
We will soon be stocking a range of stunning prints from artists including Lucy Pittaway and Catherine Stephenson, so watch this space!
Looking For A Special Card and Gift?
At Bluebell Home and Gifts, we work hard to find the most fabulous cards and unique gifts for our customers. Whether you are looking for a Wedding or Birthday Card or need a present for someone special, you can pop into our shop in Grassington or alternatively order from a selection of our gift range online. 
Visit Our Shop
Bluebell Home and Gifts, 4 The Square, Grassington, BD235AQ
Mon - Tues, 10.30am - 4pm, Thurs - Fri, 10.30am - 4pm, Saturday, 10.30am - 4pm
Sunday & Wednesday Closed